Delivering results
For more than 30 years, R & L Woodcraft has been delivering high quality, custom commercial finishes and environments.  Now rebranded Minnesota Millwork & Fixtures, our product offering has grown from cabinetry, modular millwork, and architectural millwork to also include tables and upholstered seating.  We have supplied several prominent clients throughout the years, partnering with them on the design, build and installation phases.  We know how important every step of the process is and pride ourselves on working through each detail.  We know our clients demand a high quality, well- engineered product built to last and delivered on time within budget.
We build our product with the understanding that architectural millwork adds value to any interior design project. Quality and craftsmanship bring the beauty and clean lines of custom millwork to life.  Our highly skilled team capable of working with designers, architects, project managers, general contractors or the end customer to create the results your project demands. Our professional approach to the job insures that budgets are met and product delivered on time.  Our careful combination of traditional craftsmanship and modern technology delivers the product exactly as ordered.
Our 52,000 square foot production facility can flexibly handle any scale of project whatever the scope and we can co-operatively meet any timeline or budget parameters. Our modern computer aided cutting equipment insures that material is optimized for minimal waste and holding to budget.  We have the ability to work with wood, metal, fabrics, glass, and solid surface to meet your demands for finishing.
At Minnesota Millwork & Fixtures, we are committed to delivering a well-built quality product that will outlast your design.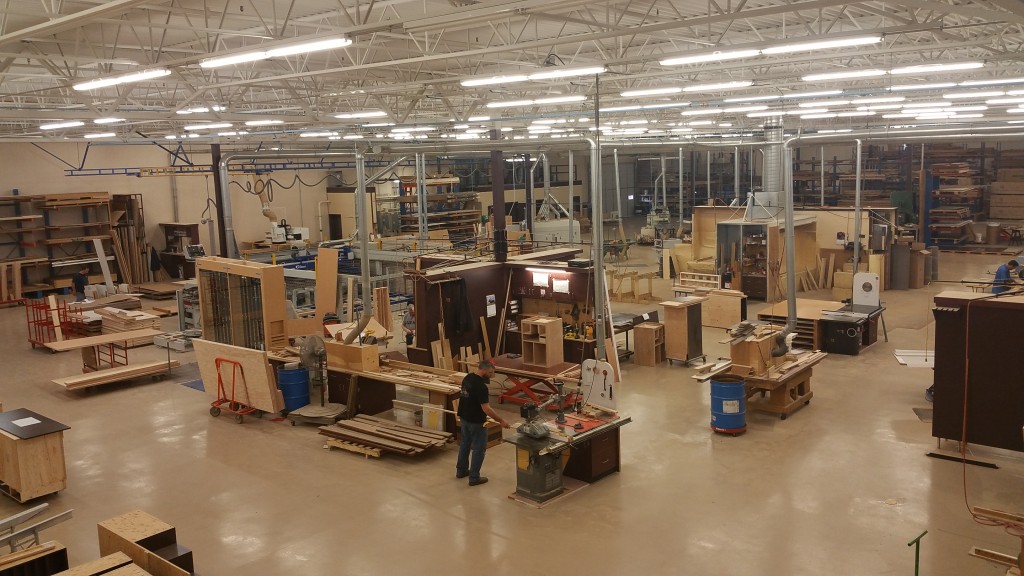 Our employees take pride in our work and build high quality products.  We work with discerning clients who appreciate fine woodwork and expect the highest quality for the best value. Whatever the design details, budget or timeline, R&L Woodcraft achieves impeccable results. Every custom millwork project is engineered to be technically perfect, functionally durable and visually appealing.  We don't import any frames or pieces- everything is proudly made here in our plant.
The details and intricacies of custom architectural millwork require a high level of skill and craftsmanship.  Our workforce is highly trained and experienced in construction techniques varying from the modern, computer added cutting and design, to the old world craftsmanship that for years has provided high end custom wood interiors. Our team has worked on many high-profile and technically-challenging projects including restaurants and hotels. Our team can find the best solution to any design challenge.
Meeting customer expectations and deadlines are important and communication with the customer and design team throughout the process is critical to meeting those expectations. From the initial bid to the final installation, we establish clear goals and timelines with our customers. This allows us to identify any challenges that may arise and enables us to recommend solutions along the way. To provide this level of service, we are selective about who we partner with and what projects we take on.
Talented and dedicated employees are key to our customer experience.  We value the skill and work ethic of the team that delivers the best product to you on time and within budget. We strive to maintain an environment where our employees have meaningful work, where they have the opportunity to learn and grow in their trade and are constantly challenged with new ideas and concepts.  Good employees are hard to come by, and we do everything to keep ours.